About Gastroenterology and Digestive Disorders Conference
Conference Series Ltd is organizing "16th International Conference on Gastroenterology and Digestive Disorders" during August 06-07 at Abu Dhabi. Conference highlights the theme Prevalence, Clinical Characteristics, and Management of gastroenterology
Gastro Meet 2018 is a leading platform for a focused agenda of the current research in the field of gastroenterology which includes, guest lectures, keynotes, symposiums, workshops, exhibitions, panel discussions and poster sessions. We invite Gastroenterologists, Hepatologists, General Physicians, Microbiologists, Oncologists, Surgeons, Researchers, Students, and Business delegates to join us at Abu Dhabi in August 2018 for the 2-day power packed Gastroenterologists Meet.
Conference Series Ltd organizes 1000+ International Conferences every year across USA, Europe & Asia with support from 1000 more scientific Societies and publishes 400+ Open Access Journals which contains over 30000 eminent personalities, reputed scientists as editorial board members.
Sessions/Tracks
Molecular biology has become an integral part of basic and clinical gastroenterology. A broad spectrum of infectious, inherited and malignant gastrointestinal diseases can now be studied by molecular methods, including polymerase chain reaction, hybridization and DNA sequence analyses. Recent progress in the molecular analysis of Whipple's disease and colorectal cancer, two major problems in clinical gastroenterology.
Genetics have led to an increased understanding of the genetic determinants of gastrointestinal (GI) disorders. Currently recognized clinical indications for genetic testing covers diagnostic testing, presymptomatic testing, new-born screening, carrier testing, prenatal testing, and pharamacogenetic testing.
Gastrointestinal Immunology mainly focus on differentiation of gut-associated lymphoid tissue, regulation of innate and adaptive immune cell differentiation and function, genetic and epigenetic factors regulating immune responses and inflammation. It also gives idea about the clinical research, clinical trials and epidemiology studies on gastrointestinal inflammatory diseases including but not limited to gluten-sensitive enteropathy, inflammatory bowel disease, and gastritis, malabsorption syndromes, diarrhea, gastric and duodenal ulcers and disease of the salivary glands excluding cystic fibrosis.
Pediatric Gastroenterology is subjected with treating the gastrointestinal tract, liver and pancreas of children from infancy till adulthood. Testing is done using PH Probes, Breath Test, Liver Biopsies, Endoscopic Procedure.
The main aim of the study of pediatric gastroenterology is to scale down infant and child rate of deaths, control the spread of infectious disease, and promote healthy lifestyles for a long disease-free life and aid ease the issue of children and adolescents.
Gastrointestinal Pathology is sub discipline of surgical Pathology. It deals with the analysis and exposure of neoplastic and non-neoplastic diseases of the digestive tract and accessory organs, such as the pancreas and liver.
Though pathology diagnosis is a critical determinant of future cancer risk and screening interval, many of these diagnoses do not result in significant morbidity or mortality for patients; thus, errors may be "masked" by the limited effect to the patient in the present context.
Digestive cancers can have wide-ranging effects on our health, nutritional status, and quality of life. It shows the symptoms of internal bleeding, acute pains, swelling, inability to digest, difficulty in swallowing or chronic constipation or acute diarrhea.
The diagnosis often requires endoscopy, pursued by biopsy of suspicious tissue. The treatment depends on the location of the tumour, as well as the type of cancer cell and whether it has invaded other tissues or spread elsewhere, these factors also determine the prognosis. Esophageal cancer is the sixth-most-common cancer in the world, and its incidence is increasing.
Radiology can be done in many ways like x-ray, computed tomography, Magnetic resonance imaging. Computed tomography now allows comprehensive assessment of abdominal and pelvic inflammatory and infectious processes, obstruction, tumour detection and staging, and display of vasculature and blunt trauma effects.
Barium studies of the gastrointestinal tract, enteroclysis for small-bowel assessment, and conventional radiography still have a role, despite the extensive use of fiberoptic endoscopy. Fluoroscopy is still important, but great advances in technologies have changed gastrointestinal radiology irrevocably.
Gastrointestinal motility is characterized by the movements of the digestive system, and the transit of the contents within it. Gastrointestinal Disorder is the disorder related to gastrointestinal tract namely the esophagus, stomach, small intestine, large intestine and rectum, and the accessory organs of digestion, the liver, gallbladder, and pancreas. Gastrointestinal disorders include such conditions as constipation, irritable bowel syndrome, hemorrhoids, anal fissures, perianal abscesses, anal fistulas, perianal infections, diverticular diseases, colitis, colon polyps and cancer. Many of these can be prevented or minimized by maintaining a healthy lifestyle, practicing good bowel habits, and submitting to cancer screening.
Gastrointestinal disorders research remains severely underfunded. Less than 1% of digestive disease research funding, through the National Institutes of Health (NIH), is allocated for functional disorders.
Common digestive problems include heartburn/GERD, IBD, and IBS. Symptoms may include bloating, diarrhea, gas, stomach pain, and stomach cramps. Treatment includes a combination of medication and lifestyle changes.
Treatment options include drugs that reduce acid levels, such as the proton pump inhibitors Aciphex, Nexium, Prevacid, Prilosec, and Protonix and the H2 blockers Axid, Pepcid, Tagamet, and Zantac
Above all Digestive disorder, Achalasia is dangerous as it  a failure of smooth muscle fibers to relax, which can cause a sphincter to remain closed and fail to open when needed.  The main symptoms of achalasia are dysphagia (difficulty in swallowing), regurgitation of undigested food, chest pain behind the sternum, and weight loss.
Pancreas produces juices that help break down food and hormones that help control blood sugar levels. Problems with the pancreas can lead to many health problems like pancreatitis, exocrine pancreatic insufficiency and pancreatic cancer.
The pancreas additionally assumes a part in diabetes. In type 1 diabetes, the beta cells of the pancreas never again make insulin in light of the fact that the body's resistant framework has assaulted them. In type2 diabetes, the pancreas loses the capacity to emit enough insulin.
Inflammatory bowel disease (IBD) is a band of inflammatory conditions of the colon and small intestine. Crohn's disease and ulcerative colitis are the most important types of inflammatory bowel disease. It not only affects the small and large intestine but also affects the mouth, oesophagus, stomach and the anus.
The following symptoms are abdominal pain, vomiting, diarrhea, rectal bleeding, and severe internal cramps/muscle spasms in the region of the pelvis and weight loss. Diagnosis is generally by assessment of inflammatory markers in stool followed by colonoscopy with biopsy of pathological lesions.
Colorectal Diseases (CRD) generally varies from benign lesions to malignant and cancerous masses. A  variety of tests and procedures to screen for and diagnose colorectal disease, including one or more of the following  Colonoscopy, flexible sigmoidoscopy, Endoscopic ultrasound, Capsule endoscopy.
A variety of medical and surgical treatment options for colorectal disease, including: Endoscopic mucosal resection, Fecal microbiota transplant, Bowel resection, J-pouch surgery.
Liver sickness (likewise called hepatic infection) is a sort of harm to or ailment of the liver. There are more than a hundred various types of liver disease, symptoms may incorporate jaundice and weight loss.er ailment can happen through a few components. A typical type of liver ailment is viral contamination. Viral hepatitis, for example, Hepatitis B infection and Hepatitis C infection can be vertically transmitted amid birth by means of contact with contaminated blood.
A number of liver function tests (LFTs) are now available to test the proper function of the liver. Anti-viral medications are available to treat infections such as hepatitis B. Other conditions may be managed by slowing down disease progression.
The gastrointestinal diseases require treatment, pharmacological treatment are divided into 2 categories- the prescription drugs and Over the Counter (OTC) drugs. Gastrointestinal drugs are prescribed based on the diagnostic results yielded during the haematological or imaging tests. The most common diagnosis is done through endoscopy. The therapies are recommended based on gastrointestinal tract disorders, gastrointestinal tract walls disorders, gastrointestinal motility disorders, gastrointestinal cancers.
Probiotics are not currently regulated and only few randomized controlled trials exist investigating their efficacy in different GI disorders
Peritoneal infections are classified as primary, secondary, or tertiary. Antibiotic therapy is used to prevent local and haematogenous spread of an intra-abdominal infection and to reduce late complications. Several different antibiotic regimens are available for the treatment of intra-abdominal infections.
Gastrointestinal surgery is divided into upper GI surgery and lower GI surgery. Upper GI Surgery includes surgery for gastro-oesophageal reflux, Gall bladder disease, Hernias, other benign oesophageal and gastric disorders, other benign pancreatic and hepatobiliary disorders. Lower gastrointestinal surgery includes colorectal surgery and surgery of the small intestine.
Laparoscope is a fiber-optic gadget that transmits pictures from internal part of the body to a video screen when embedded in the stomach divider.
Obesity has become a global health problem that contributes to numerous life-threatening and disabling diseases, such as type 2 diabetes mellitus and coronary artery disease.
Bariatric surgery (weight loss surgery) includes a variety of procedures performed on people who have obesity. This is done by reducing the size of the stomach with a gastric band or through removal of a portion of the stomach or by resecting and re-routing the small intestine to a small stomach pouch. The U.S. National Institutes of Health prescribes bariatric surgery for corpulent individuals with a body mass record (BMI) of no less than 40, and for individuals with BMI of no less than 35 and genuine coinciding therapeutic conditions.
Intestinal Rehabilitation mainly deals with the process of restoring enteral autonomy and thus allowing freedom from parenteral nutrition usually by means of dietary, medical and occasionally surgical strategies. Intestinal rehabilitation occurs as a consequence of enhanced bowel adaptation or short bowel syndrome. A coordinated team of gastroenterologists, surgeons and nutritionists provide long-term care to Patients with short or malformed intestines.
Helicobacter pylori (H. pylori) infection is a typical infection which is the major cause of peptic ulcer disease and gastric cancer. Most people with H. pylori infection will never have any signs or symptoms. Diagnosis of this disease can be done using blood test, breath test, stool test, scope test. Treatment can be done using Proton pump inhibitors, Histamine (H-2) blockers, Bismuth subsalicylate.
Non-steroidal anti-inflammatory drugs (NSAIDs) are among the most widely used drugs and their widespread use is associated with increased gastro-intestinal toxic effects such as ulceration, haemorrhage, perforation and death.
Using of Lansoprazole in the prophylaxis of acid aspiration during elective surgery is one the advance treatment in Digestive diseases.
Gastroenterology has emerged from the backwoods of medical specialties only over the past 20 years. It is Because of massive improvement in the field of diagnosis and treatment. Gastroenterology has undergone binary fission into hepatology and "hollow organ" gastroenterology. Innovations in colorectal cancer screening, capsule endoscopy, cures for hepatitis C and new biologic therapies are some of the recent advances in gastroenterology.
Neurogastroenterology is the study of the brain, the gut, and their interactions with relevance to the understanding and management of gastrointestinal motility and functional gastrointestinal disorders. Precisely, neurogastroenterology targets on the functions, malfunctions, and the malformations of the sympathetic, parasympathetic, and enteric divisions of the digestive tract.
Peroral endoscopic myotomy (POEM) was introduced as a new effective therapeutic option for esophageal achalasia.
Gastro Meet 2018 facilitates a unique platform for transforming potential ideas into great business. The meeting creates a global platform aimed to connect global Entrepreneurs, Proposers and the Investors in the field of Medicine, Technology and many more. Its allied sciences to develop and facilitate the most optimized and viable business for engaging people in to constructive discussions, evaluation and execution of promising business.
Relevant Conferences: Gastroenterology Conferences | Digestive Disorders Meetings | Hepatology Conferences
Related Associations:
USA: World Gastroenterology Organisation, American Society for Gastrointestinal Endoscopy, American Gastroenterological Association, American Society of Bariatric Physicians, British Society of Gastroenterology, Society of American Gastrointestinal and Endoscopic Surgeons, American Society of Transplant Surgeons, The Phoenix Society of Gastroenterology, Western Gastroenterology, San Diego Gastroenterology Society, Florida Gastroenterologic Society, Georgia Gastroenterologic and Endoscopic Society, Delaware Valley (PA) Society for Gastroenterological Endoscopy, North Carolina Society of Gastroenterology, New York Society for Gastrointestinal Endoscopy, Texas Society for Gastroenterology and Endoscopy, , Crohn's & Colitis Foundation of America, Canadian Association of Gastroenterology.
Europe: The European Society of Gastroenterology and Endoscopy Nurses and Associates, United European Gastroenterology, European Society for Paediatric Gastroenterology, Hepatology and Nutrition, European Society of Gastrointestinal Endoscopy , The European Federation of Crohn's & Ulcerative Colitis Associations, Belgium society of Gastrointestinal Endoscopy.
Asia Pacific: Endoscopy Section of the Netherlands Society of Gastroenterology, Asian Pacific Association for the Study of the Liver, Asian Pacific Association of Gastroenterology, Indian Association of Gastrointestinal Endoscopy, The Japanese Society of Gastroenterology, Japan Gastroenterological Endoscopy Society, Indonesian Society of Gastroenterology, Taiwan Surgical Society Of Gastroenterology, Philippine Society of Gastroenterology.
Middle East: Lebenese Society of Gastroenterology, Iraqi Society of Gastroenterology and Hepatology, Egyptian Network of Gastroenterology & Hepatology, Iranian Association of Gastroenterology and Hepatology, Islamabad Gastroenterology Associates, Afghanistan Gastroenterology and Endoscopy Society.
Market Analysis
Scope and Importance
Gastroenterology
Gastroenterology deals not only with the gastrointestinal disorders or infections of the GI tract and accessory organs, but also with the gastrointestinal therapies, drugs, therapeutics, and devices that are used in the diagnosing of the infections and diseases of the GI tract. According to a recent survey, 6 in 10 people globally, suffer from some form of the gastrointestinal disorder at any given point in time. Primarily, the causes of the prevalence of the chronic digestive and related diseases are due to lifestyle changes, lack of exercise, overeating, depression, anxiety, and socio-economic and emotional factors.
Why it's in Abu Dhabi, UAE:
Gastroenterology Middleeast 2018 is going to be held in Abu Dhabi. Abu Dhabi is the capital and the second most populous city of the United Arab Emirates and also capital of the Emirate of Abu Dhabi, the largest of the UAE's seven emirates. Abu Dhabi lies on a T-shaped island jutting into the Persian Gulf from the central western coast.
Abu Dhabi is the wealthiest emirate of the UAE in terms of Gross Domestic Product (GDP) and per capita income. More than $1 trillion is invested worldwide in this city alone. In 2010, the GDP per capita also reached $49,600, which ranks ninth in the world after Qatar, Liechtenstein and Luxembourg and many others.
Gastroenterology Research work is going ahead in the other nearby Middle East companies and Asian countries. So, Abu Dhabi will be the great place for the gatherings.
Why to attend???
As many People in the world are focused on learning about the Digestive system and its disorders. This is your best opportunity to reach the largest assemblage of participants from the Gastroenterologists and Herpetologists Community. Conduct presentations, distribute information, meet with current and potential scientists and Doctors, make a splash with new therapeutics and surgical methods, and receive name recognition at this 2-day event. World-renowned speakers, the most recent techniques, developments, and the newest updates in and Digestive treatment are hallmarks of this conference.
Gastrointestinal disorders include such conditions as constipation, irritable bowel syndrome, hemorrhoids, anal fissures, perianal abscesses, anal fistulas, perianal infections, diverticular diseases, colitis, colon polyps and cancer
Gastroenterologists perform a number of diagnostic and therapeutic procedures including colonoscopy, endoscopy, endoscopic retrograde cholangiancreatography (ERCP), endoscopic ultrasound and liver biopsy. Digestive Disorders is a complex medical issue that requires a multidisciplinary approach. This approach is sweeping and ranges from well-being advancement to counteractive action and screening, diagnosis, treatment, restoration and Primitive Care.
Major Associations
ASGE -American Society for Gastrointestinal Endoscopy
AGES -Indian Association of Gastrointestinal Endo Surgeons
SGNA- Society of Gastroenterology Nurses and Associates
ESGENA – The European Society of Gastroenterology and Endoscopy Nurses and Associates
American Gastroenterological Association
American Society of Bariatric Physicians (ASBP)
National Association for Colitis and Crohn's Disease (NACC) (UK)
Crohn's & Colitis Foundation of America
Society of American Gastrointestinal and Endoscopic Surgeons
The Society of Gastroenterology Nurses and Associates
British Society of Gastroenterology (BSG)
The Bockus International Society of Gastroenterology.
World Gastroenterology Organisation
Ontario Association of Gastroenterology
Canadian Association of Gastroenterology
United European Gastroenterology
Florida Gastroenterological Society
Gastroenterological Society of Australia
The Gastroenterological Society of Taiwan
Indian Association of Surgical Gastroenterology
Major Universities associated with Gastroenterology in worldwide:
IBS The University of Barcelona
World Gastroenterology Organisation
American College of Gastroenterology
Medicine-Gastroenterology – University of Colorado
Pediatrics – Gastroenterology – Stanford Medicine – Stanford University
University of Pittsburgh
Division of Gastroenterology & Hepatology – University of Virginia
Gastroenterology and Hepatology: Department of Medicine: Feinberg
Division of Gastroenterology – McMaster University
Gastroenterology – Rush University Medical Center
Major Industries associated with Gastroenterology in worldwide:
Covidien
EndoChoice
Frontier Healthcare
Sun Pharmaceutical Industries Ltd.
Alkem Laboratories
Boston Scientific
FUJIFILM Medical Systems
Pentax Medical Company
Olympus
gMed
Physicians Endoscopy
US Endoscopy Group
Major Hospitals Associated with Gastroenterology in worldwide:
Mayo Clinic
Cleveland Clinic
Johns Hopkins Hospital
Massachusetts General Hospital
Mount Sinai Hospital
University of Chicago Medical Center
Hospital of the University of Pennsylvania
Ronald Reagan UCLA Medical Center
New York-Presbyterian University Hospital of Columbia and Cornell
Cedars-Sinai Medical Center
UPMC-University of Pittsburgh Medical Center
Barnes-Jewish Hospital/Washington University
University of Michigan Hospitals and Health Centres
Clarian Health
Duke University Hospital
University of Texas M.D. Anderson Cancer Center
Market Growth of Gastroenterology Research:
The global market for gastrointestinal disorder therapeutics and diagnostics reached $49.6 billion in 2015. This market is expected to grow from nearly $51.8 billion in 2016 to $63.8 billion in 2021 at a compound annual growth rate of 4.3% from 2016-2021.
The prescription therapies market is expected to grow from $18.6 billion in 2016 to nearly $22.1 billion in 2021 at a CAGR of 3.5% for the period 2016-2021.
The diagnostics market over the next five years will grow from $17.7 billion in 2016 to $23.5 billion in 2021 at a CAGR of 5.9% for the period 2016-2021.
The market for gastrointestinal pharmaceuticals is divided into two general segments: prescription gastrointestinal pharmaceuticals and OTC gastrointestinal pharmaceuticals. Similarly, the market for gastrointestinal diagnostics, testing and vaccines is divided into three general segments:  Diagnostics and testing market, Medical devices (endoscopy), Vaccines. The market is further broken down into the drugs to treat specific disorders within the gastrointestinal system, including the following:
Gastrointestinal tract disorders.
Gastrointestinal tract walls disorders.
Gastrointestinal motility disorders.
Gastrointestinal cancers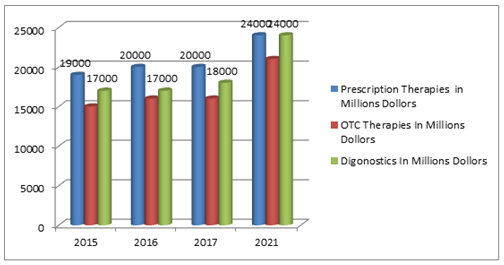 The rise in the instances of Crohn's ldisease, inflammatory bowel disease, ulcerative colitis, and such other diseases is also expected to create a rise in demand for the gastrointestinal diseases market. The growth in the demand and sale for the gastrointestinal drugs across the developing and developed markets is also attributed to be one of the major driving factors for this market. The growing investments and the research & development activities by the key market players are also expected to play a vital role in the overall growth of this market. The major restraining factors for the market include advancements in the new alternative therapies and the regulatory restraints.
The Main aim of the market research is to increase the awareness of gastrointestinal disorders among people and to identify the gastrointestinal market landscape as well as important advancements.
This study analyses various therapeutic options currently on the market as well as potential products and classes of products that are likely to have a significant impact on the future for the prescription as well as the over-the-counter (OTC) gastrointestinal drug markets. The gastrointestinal market is one of the key therapeutic areas most significantly affected by the generic erosion of block-busters.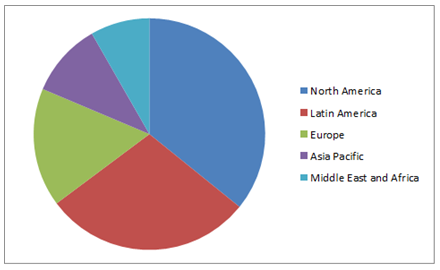 Fig- Global Gastrointestinal Drugs Market Revenue by Region, 2016
According to Market research the Global Gastrointestinal Drugs Market Revenue by Region in 2016, North America was the highest by getting the revenue of 17,288 US Dollar Million, while the Middle East and Africa Continent was having least generation of revenue.
But, the Future scope is much brighter in Coming years in Middle East countries.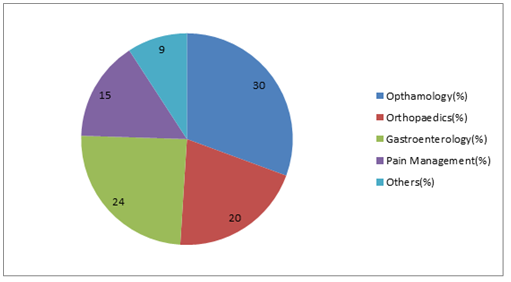 Fig: Global ambulatory Surgery Centers Market share (%) by, 2023
The demand for ambulatory surgery center is high in Europe and Asia Pacific owing to the government initiatives to overcome the shortage of medical facilities in remote areas of developing countries such as India and China.
The North America ambulatory surgery center market is anticipated to witness significant growth rate in future due to the enough outpatient surgery centers and government regulations governing the preference for outpatient surgery centers in order to expand the reach of medical facilities.
New Updates: Gastroenterology and Digestive Disorders
Irritable bowel syndrome (IBS) can be Cured by Fecal microbiota transplantation??
In humans, the gastrointestinal tract represents a large microbial ecosystem, housing several trillion microbial cells named the gut microbiota. Recent advances in sequencing methods have increased our understanding of the role of the gut microbiota in health and disease.  Fecal microbiota transplantation (FMT) as an ecological therapy for several diseases is growing rapidly through worldwide. Evidence suggests that a disturbance in the gut microbiota may be responsible for the initiation and persistence of symptoms in patients with irritable bowel syndrome. FMT could be an ideal treatment option.
There is a growing interest in fecal microbiota transplantation (FMT) therapy for several gastrointestinal (GI) disorders.  Microbiome in our GI system plays an important role in health and disease.
An increasing number of studies demonstrate an aberrant gut microbiota composition in irritable bowel syndrome (IBS) and raise the question of whether FMT has a place in the treatment of this condition. The microbial pathophysiology of IBS is however not clearly understood, as microbiota alterations in IBS might either be a cause of IBS or a consequence of intestinal secretion and motility altered by IBS. FMT may play a significant role in future treatment of several other diseases which are thought to be linked to an abnormal gut microbiota, such as metabolic syndrome, inflammatory bowel disease, Obesity, type 2 diabetes mellitus, colonization of the gastrointestinal tract by pathogenic and multi-resistant microorganisms, depression, autism spectrum disorders, and chronic stress.
IBS is the most prevalent functional GI disorder in developed countries. It is estimated that IBS affects 10%-15% of the adult population and strongly impairs quality of life, work productivity, and social function as well as inflicting substantial costs to health care systems.
IBS symptoms are characterized by chronic abdominal pain and altered bowel habits, including diarrhea or constipation, in the absence of organic or structural causes. Furthermore, IBS can be subcategorized into diarrhea predominant (IBS-D), constipation predominant (IBS-C), and alternating (IBS-A) or mixed (IBS-M), where the last two are sometimes considered synonymous. IBS is a chronic relapsing disease in which symptoms and IBS subtype may vary over time. IBS affects women more often than men.
The treatment of IBS remains challenging due to the heterogeneity of the disorder, a lack of reliable outcome measures, and high placebo response rates. At present there is no cure for IBS and while there are a number of pharmacological therapies available to treat IBS symptoms, they are not effective in many patients.
Some studies indicate that moderate effects can be achieved by probiotics and prebiotics. These products must be taken continuously to obtain a lasting effect. Also treatment with tricyclic antidepressants, antibiotics, anti-cholinergic drugs, motility regulatory drugs, selective serotonin reuptake inhibitors, melatonin, non-steroid anti-inflammatory drugs, opioids, and even Chinese herbs are suggested in severe IBS cases and underlines the fact that we do not yet know the etiology of the disease.
Past Conference Report
Gastroenterology 2016
The 7th Global Congress on Gastroenterology & Endoscopy hosted by Conference Series LLC took place at Atlanta, Georgia, USA during September 12-14, 2016. Active participation and generous response were received from the Organizing Committee Members, Editorial Board Members of Conference Series LLC Journals as well as from eminent scientists, talented researchers and young student community. Researchers and students who attended from different parts of the world has made the conference one of the most successful and productive events in 2016 from Conference Series LLC. The conference was marked with the presence of renowned scientists, talented young researchers, students and business delegates driving the three days event into the path of success with thought provoking keynote and plenary presentations highlighting the theme, "Discovering Grey Zones in Gastroenterology & Endoscopy".
The conference proceedings were carried out through various Scientific-sessions and plenary lectures, of which the following topics were highlighted as Keynote-presentations:
Abdominal pain after bariatric surgery – Muhammad Jawad, Orlando Regional Medical Center, USA
The role of endosonography (EUS) in evaluating pediatric eosinophilic esophagitis (EoE) – Simon S Rabinowitz, Downstate Children's Hospital, USA
Acute Kidney Injury among Patients with Cirrhosis – Ashwani K Singal, University of Alabama at Birmingham, USA
Electrosurgery and argon plasma coagulation in endoscopy: An art and science – Kristie Briggs, Erbe USA Inc., USA
Conference Series LLC has taken the privilege of felicitating Gastroenterology 2016 Organizing Committee, Editorial Board Members and Keynote Speakers who supported for the success of this event. Conference Series LLC, on behalf of the conference sponsor appreciates all the participants who put their efforts for this event and sincerely wishes them success in future endeavors.
The esteemed guests, Keynote speakers, well-known researchers and delegates shared their innovative research and vast experience through their fabulous presentations at the podium of grand Gastroenterology 2016. We are glad to inform that all accepted abstracts for the conference have been indexed in OMICS Group "Journal of Gastrointestinal & Digestive System" as a special issue.
We are also obliged to various delegate experts, company representatives and other eminent personalities who supported the conference by facilitating active discussion forums. We sincerely thank the Organizing Committee Members for their gracious presence, support and assistance towards the success of Gastroenterology 2016. With the unique feedbacks from the conference, Gastroenterology 2016 would like to announce the commencement of the "10thGlobal Congress on Gastroenterology and Endoscopy." to be held during Oct 30- Nov 01, 2017, in Bangkok, Thailand.