ABOUT CONFERENCE
EuroSciCon proudly announces the "28thWorld Conference on Nursing Diagnosis and Care Plans 2018″ during September 10-11, 2018 Prague, Czech Republic, with the theme "Exploring Latest Innovations in Nursing Diagnosis and Care Plans". EuroSciCon through its Open Access Initiative is committed to make genuine and reliable contributions to the scientific community.
Nursing Diagnosis is a part of the nursing process and is a clinical judgment about individual, family or community experiences or responses to actual or potential health problems. On the other hand, Nursing Care Plans provide direction on the type of nursing care the individual or family or community needs. The primary focus of a nursing care plans is to facilitate standardized, evidence-based and holistic care. Nursing care plans have been used for human purposes and are now being used in the veterinary profession as well.
Scope and Importance
Nursing Diagnoses 2018 aims to focus on the critical parts ensuring that the knowledge and contribution of nursing practice to patient outcomes are found within the electronic health record and can be linked to nurse-sensitive patient outcome. It also helps in discovering advances in health practice and management for health disparities too.
Who Can Attend?
Leading world Doctors, registered Nurses, health care professionals, Professors, Research fellows,leading universities, students, directors of association and societies.
Nursing Diagnosis 2018 conference brings together individuals who have an interest in different fields of nursing like psychiatric, cancer, cardiac, critical care, adult & women health, legal, Pediatric and emergency nursing, diagnosis, care plans, midwifery, public health, healthcare and medicine from practice, research, administration, policy and education. It is a forum to explore issues of mutual concern as well as exchange knowledge, share evidence, ideas, and generate solutions.
Why to Attend?
Nursing conference will provides exposure for the possibilities in the field of Nursing. It is very beneficial for the students, physicians, nurses, doctors, health care people, professors because it provides knowledge in this field.  It also gives opportunities to the nursing societies to showcase their knowledge and have face to face meetings with scientists, increasing their business opportunities and also gives opportunity to know about their market competitors. It allows nurses of all levels of experience to participate in an area of career and education growth that is not easily found within the structure of the workplace. We assure, our attendees would return to their hospitals with a confidence to improve their nursing practice, equipped with certified procedures to work with.
A Unique Opportunity for Advertisers and Sponsors at this International event:
http://nursingdiagnosis.euroscicon.com/sponsors
SESSION TRACKS
Track 1: Nursing Diagnosis
It is one of the branch of the nursing process which is based on clinical judgment about an individual or family's experiences to actual or potential health problems. It is done as per the basis of data obtained during the assessment. The actual diagnosis discovers the problem present at time of assessment, whereas a medical diagnosis identifies the disorder.
Nursing process
Clinical judgment
Nursing assessment
Medical diagnosis
Nursing diagnosis
Track 2: Nursing Care Plan
It provides instructions on the type of nursing care the individual or family may require. Nursing care plans are being used since so long for human purposes and are now being used in the veterinary profession as well.
Care planning is basically, identifying problems and finding solutions to reduce or remove them. Care plans helps in recording and hence their effectiveness is assessed. Nursing care plans provide continuity of care, safety, quality care and compliance.
Standardized care
Holistic care
Expected outcome
Interventions
Care structure
Track 3: Types of Nursing Diagnosis
Actual diagnosis represents the problem at the time of the nursing assessment. It is based on the available associated signs and symptoms. Risk diagnosis is a clinical judgment that the problem may be there or not. Wellness diagnosis is the human responses to site if wellness in an individual or family. Syndrome diagnosis deals with a cluster of other diagnoses.
Actual
Risk
Wellness
Syndrome
Associated signs and symptoms
Track 4: Types of Care Plans
Client assessment, medical results and diagnostic reports, this is basically, the first step in order to be able to create a care plan. In particular client assessment is related to the following areas and abilities: physical, emotional, sexual, psychosocial, cultural, spiritual/transpersonal, cognitive, functional, age related, economic and environmental. Information in this area can be subjective and objective. Expected patient outcomes are outlined and hence, may be long or short term. Nursing interventions are documented in the care plan. Rationale for interventions in order to be evidence based care. Evaluation, documents the outcome of nursing interventions.
Client assessment
Care pathways
Care bundles
Record care
Measure Care
Track 5: General Care Plans 
Nurses play a variety of roles and functions. They provide care of patient before, during, and after the treatment, and this is called as Perioperative Nursing. It is a unique nursing area wherein a nurse works as a team member for health care professionals.
Deficient Knowledge
Fear/Anxiety
Risk for Injury
Risk for Infection
Risk for Altered Body Temperature
Ineffective Breathing Pattern
Altered Sensory/Thought Perception
Risk for Fluid Volume Deficit
Acute Pain
Track 6:  Nursing Diagnosis for Cerebrovascular Accident
At the time of acute phase of CVA, main focus should be on survival needs and prevention. Mainly, care is done as efficient continuing neurologic assessment, support for respiration, monitoring of vital signs, management of gastric problems, and focused monitoring of electrolyte, and nutritional status.
Ineffective Cerebral Tissue Perfusion
Impaired Physical Mobility
Impaired Verbal Communication
Disturbed Sensory Perception
Ineffective Coping
Self-Care Deficit
Risk for Impaired Swallowing
Activity Intolerance
Track 7: Nursing Care Management
Nursing management comprises of the execution of the authority elements of administration and basic leadership inside associations utilizing medical attendants. It incorporates forms normal to all administration like arranging, sorting out, staffing, coordinating and controlling.
Workforce Planning
Crisis and risk management
Human resource management
Innovations and reforms in nursing management
Information technology in nursing
Nursing ethics
Leadership
Track 8: Nursing Diagnosis for Diabetes Mellitus
It is recognized by hyperglycemia or dangerously high blood sugar level, may occur due to either by not enough secretion of insulin or may be the development of insulin resistance by cells.
Imbalanced Nutrition Less Than Body Requirements
Fluid Volume Deficit
Impaired Skin Integrity
Activity Intolerance
High risk of injury
Anxiety
Risk for ineffective management
Track 9: Nursing Care Law
Legal Nursing is the medical department, based on the legal authorization which provides license to nursing practice according to state and federal laws. In legal nursing, there are mainly six ethical principles that arise continually for the nurses who works in the correctional setting with respect for persons Beneficence, No maleficence, Justice, Veracity, Fidelity. They usually do their job in legal issues by recording the professional problems and figured out the medical etymology by consulting them personally.
Health care laws
Ethical issues in legal nursing
Medical practice and linked life insurance
Role of legal nursing
Legal nurse in end-of-life care
The affordable care act
Nurse anesthetist
Personal Data Assistants
Track 10: Nursing Diagnostic for Oncology
Patients who have undergone for the treatment of cancer or currently have an untreated cancer can develop a risk for infection called Neutropenia. Risk for infections linked to compromised host defenses are secondary to insufficient leukocytes and radiation therapy acts as evidence by neutrophil count <500.
Anticipatory Grieving
Situational Low Self-Esteem
Acute Pain
Altered Nutrition
Risk for Fluid Volume Deficit
Fatigue
Risk for Impaired Skin Integrity
Track 11: Safety in Nursing
A Healthy Work Environment is said to be one that is safe, empowering, and satisfying. As per the World Health Organization definition of health, it is not the absence of real and perceived threats to health, but is a place of "physical, mental, and social well-being".
Bullying and Violence Prevention
Chemicals, Drugs, and Biohazard Safety
Safe Patient Handling and Mobility
Safe Staffing
Sharps Safety
Track 12: Environmental Health Nursing
The practice of environmental health nursingis focused on health promotion, illness and injury prevention, and also the protection of individual. The underlying notion is multidisciplinary and includes the sciences of nursing, medicine, public health. It even includes the social and behavioral sciences and principles of management and health care administration.
Clinical and primary health care
Case management
Health hazard assessment and surveillance
Counseling and health education
Health promotion
Track 13: New Technologies in Nursing
New technology can be as intimidating for nurses as it sometimes is for patients, so appropriate training and system design is vital for success. As technology is adapted into more health care settings, it may eventually be used in new, unexpected ways, or bring to light new possibilities that can improve nursing practice and health care even further. Besides from requiring new skills to understand and operate them correctly, these new technologies require nurses to have top critical-thinking, decision-making, and leadership skills to support the maximum benefits to their practice as well as patients.
Wireless Communication Systems
Real-Time Location Services
Wireless Patient Monitoring
Smart TVs
Point of Care Technology
Track 14: Nursing Diagnosis in Anemia
Anemia is a condition wherein a decrease in the red blood cells or hemoglobin in the blood is seen, which vary by age, sex, altitude, etc. There are several types and classifications of anemia. When it is on the initial stage, the symptoms are generally vague and may include feeling tired, weakness, shortness of breath, whereas when it is at higher stages, it often has greater symptoms, which may include confusion, feeling like one is going to pass out, loss of consciousness, or increased thirst.
Inadequate secondary defenses
Changes in nutrition
Changes in tissue perfusion
Constipation
High risk to skin integrity
Track 15: Nursing Care Informatics
Nursing informatics is the Virtue that consolidates nursing science with numerous information administration and diagnostic sciences to classify, illustrate, maintain, and disseminate data, intelligence, awareness, and foresight in nursing practice. This backing is skillful through the use of intelligence format, intelligence development, and intelligence automation.
Information science to enhance quality of nursing practice
Science of nursing
Health care-associated costs reduced
Handheld digital devices
Computer technology
Track 16: North American Nursing Diagnosis Association
This association is basically a professional organization of nurses, founded in 1982 for the purpose of standardizing the nursing terminology. The association generates researches, disseminates and refines the nomenclature, criteria, and taxonomy of the diagnosis. Then, in 2002, it relaunched itself as NANDA International, due to it broadening scope of membership.
Health Promotion
Nutrition
Elimination and exchange
Activity or rest
Perception or cognition
Self-perception
Role relationships
Life principles
Comfort
Development
Track 17: Fundamental Transformation of the Nursing Profession
The main role of nurses is to ensure quality, accessibility, and value, hence the nursing profession itself must undergo a fundamental transformation if the vision for health care is to be realized. Old regulations, attitudes, policies, and habits bounds one from innovations that the nursing profession can bring to health care at a pace of tremendous complexity, change and challenges.
The need to transform practice
The need to transform education
The need to transform leadership
The need for better data on the health care workforce
The need to transform system
Track 18: Tele-nursing
It is the use of telecoms and information technology in respect of nursing services whenever a huge physical distance exists between patient and nurse. Among its several advantages, tele-nursing also helps in solve increasing shortages of nurses so as to reduce distances and save travel time, and hence to keep patients out of hospital.
Remote service delivery
Financial savings
Improved bed allocation
Patient comfort
Increased health care employment opportunities
Accessibility by patients in remote areas
Track 19: E-health
It is a recent term for healthcare practice supported by electronic processes and communication. The term defines not only a technical development, but also a state-of-mind, a way of thinking, an attitude, and a commitment for networked, global thinking, to improve healthcare worldwide by using information and communication technology.
Enhancing quality
Evidence based
Empowerment
Encouragement
Enabling
Ethics
Equity
Track 20: Nursing Care Plans for Depression
Depression is basically a mood disorder which is introduced by disturbances in the regulation of mood, behavior, and affect that go beyond the general fluctuations. The plan of care for such should be to determine, degree of impairment, coping abilities, assist patient to deal with the situation, and promote health and wellness.
Risk for Self-Directed Violence
Impaired Social Interaction
Spiritual Distress
Chronic Low Self-Esteem
Disturbed Thought Processes
Self-Care Deficit
Track 21: Nursing Care Plans for AIDS (HIV Positive)
Acquired immunodeficiency syndrome is a serious secondary immunodeficiency disorder caused by the retrovirus, human immunodeficiency virus. Both diseases are characterized by the continuous destruction of T-cell with subsequent effects on B-cell because of the pivotal role of the CD4+helper T cells in immune reactions. Immunodeficiency makes the patient prone to infections, unusual cancers, and other some other abnormalities as well. Transmission may occur through contact with infected blood or body fluids and is associated with identifiable high-risk behaviors.
Acute/Chronic Pain
Impaired Oral Mucous Membrane
Disturbed Thought Process
Social Isolation
Powerlessness
Risk for Deficient Fluid Volume
Track 22: Nursing Care Plans for Hepatitis
Hepatitis is found to be distributed as a large inflammation of the liver that results in degeneration and necrosis of liver cells. Inflammation of the liver can be due to bacterial invasion, injury by physical or toxic chemical agents, viral infections i.e., hepatitis A, B, C, D, E, G, or autoimmune response. Although most hepatitis is self-limiting, approximately 20% of acute hepatitis B and 50% of hepatitis C cases progress to a chronic state or cirrhosis and can be fatal.
Reduce demands on liver
Prevent complications
Enhance self-concept
Provide information about disease process, prognosis, and treatment needs
Increased calorie needs/hypermetabolic state
Track 23: Nursing Care Plans for Alzheimer
It is a gradually developing and irreversible, degenerative, fatal disease. It is a brain disorder that affects a person's ability to carry out daily activities. It generally begins after age 60 and the risk goes up as one gets older. Pathologic consequences generally include the loss of neurons in multiple areas within the brain, the presence of plaques composed of neurites, astrocytes, and glial cells that surround an amyloid center. The enzyme choline acetyltransferase, has the least action with Alzheimer's patient, which in turn results in impaired conduction of impulses between the nerve cells. So far, no treatment can stop the progression of the disease. However, some drugs may help in keeping symptoms from getting worse for a limited time.
Disturbed Thought Process
Chronic Confusion
Impaired Verbal Communication
Impaired Physical Mobility
Disturbed Sleep Pattern
Disturbed Sensory Perception
Compromised Family Coping
Wandering
Track 24: Nursing Care Plans for Cystic Fibrosis
It is an autosomal recessive genetic disorder caused by a mutation in the gene for the protein cystic fibrosis transmembrane conductance regulator present in the mucus-secreting cells of the body, primarily affecting the respiratory, reproductive, and gastrointestinal tracts. The hallmark manifestation of cystic fibrosis is chronic, progressive lung disease, resulting from secretion of dehydrated mucus with airway obstruction, and malnutrition from pancreatic insufficiency. The sweat glands and reproductive glands are also affected, almost all males with cystic fibrosis are sterile because of absence or impairment of vas deferens, whereas females have reduced fertility.
Impaired Gas Exchange
Ineffective Airway Clearance
Depression
Infection
Adequate oxygenation
Track 25: Nursing Care Plans for Asthma
It is a chronic inflammatory lung disease, causes airway hyperresponsiveness, mucus production, and mucosal edema resulting in reversible airflow obstruction. Allergens, air pollutants, cold weather, physical exertion, strong odors, and medications are common factors for asthma. Status asthmaticus is the most severe and persistent asthma that does not respond to the usual treatment, attacks can occur with little or no warning and can progress rapidly to asphyxiation.
Ineffective Breathing Pattern
Ineffective Airway Clearance
Activity Intolerance
Ensure adequate hydration
Cyanosis
MARKET ANALYSIS
Nursing Diagnosis 2018 welcomes the attendees, presenters and exhibitors from all over the world to Prague, Czech Republic.  We are delighted to invite you all to attend and register for the "28th Edition of World Congress on Nursing Diagnosis and Care Plans 2018 Conference" which is going to be held during September 10-11, 2018 Prague, Czech Republic. The organizing committee is gearing up for an exciting and informative conference program including plenary lectures, symposia, workshops on a variety of topics, poster presentations and various programs for participants from all over the world. We invite you to join us at the Nursing Diagnosis 2018, where you will be sure, to have a meaningful experience with scholars from around the world. All members of the Nursing Diagnosis 2018 organizing committee look forward to you in Prague, Czech Republic.
Importance and Scope
Nursing Diagnosis 2018 aims to focus on the critical parts of ensuring that the knowledge and contribution of nursing practice to patient outcomes are found within the electronic health record and can be linked to nurse-sensitive patient outcome. It also helps in discovering advances in health practice and management for health disparities. Care plans provide direction for individualized care of the client. A care plan flows from each patient's unique list of diagnoses and should be organized by the individual's specific needs.
The conference will facilitate a series of discussions about state-of-the-art processes, organizational transitions, analytics, and technology innovation within the health industry and academia, regarding transformational care delivery and health management models.
Why Prague, Czech Republic?
Prague the capital and largest city of the Czech Republic, is the 14th largest city in the European Union and is also the historical capital of Bohemia. It is situated in the north-west of the country on the Vltava river, and the city is home to about 1.4 million people, while its larger urban zone is estimated to have a population of 2.2 million. Prague has been a political, cultural, and economic center of central Europe with waning fortunes during its history. Since 1992, the extensive historic center of Prague has been included in the UNESCO list of World Heritage Sites. Prague is even classified as an "Alpha-" global city according to GaWC studies. Prague ranked sixth in the Trip advisor world list of best destinations in 2016.Prague is the fifth most visited European city after London, Paris, Istanbul and Rome.
Tourist Attraction
It contains one of the world's most pristine and varied collections of architecture, from Romanesque, Gothic, Renaissance,Neo-Gothic, Art Nouveau and Cubist. Prague has more than 10 major museums, along with numerous theatres, galleries, cinemas, and other historical exhibits. Its most famous places include The Gothic Church, The Prague Metronome, Industrial palace and Strahov Monastery.
Climate
The city of Prague lies between oceanic climate and humid continental climate. The winters are relatively cold. Snow cover can be common between mid-November and late March. Summers usually bring plenty of sunshine and the average high temperature of 24 °C. Precipitation in Prague is rather low since it is located in the rain shadow of the Sudetes. Prague is also a windy city with an average wind speed of 16 km/h.
Sports
Prague is the site of many sports events, national stadiums and teams. It has the largest stadium of the world Strahov Stadium. Prague has a good no. of football clubs including Sparta Prague, Slavia Prague, Dukla Prague and Bohemians 1905. It also has ice hockey club HC Sparta, HC Slavia Praha and O2 Arena.
Target Audience
Leading world Doctors, Registered Nurses, Health Care professionals, Professors, Research fellows, leading universities, Students, Directors of association, Societies, Companies, Medical Research Institutions and Hospitals sharing their novel researches in the arena of Nursing, Healthcare & Medicine.
Statistical Analysis of Associations
| | |
| --- | --- |
| Industry | 55% |
| Academia | 25% |
| Others | 20% |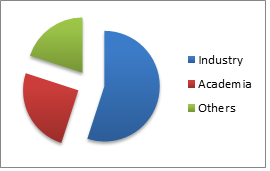 Figure 1 : Target Audience
Associated Hospitals 
The Czech medical system is no longer entirely socialized. It is partially government-run and partially private, and there are a number of Western trained doctors now operating in Prague. The Czech philosophy of medical care and the doctor-patient relationship tend to be more European in approach, the doctor will be less likely to share information about the patient's condition with the patient than is generally the case in the U.S., which is a cultural difference and not a deficiency in medical care.
Figure 2 : Associated Hospitals
References